The concept of a point particle is wrong
In quantum mechanics, the concept of a point-like particle is complicated by the Heisenberg uncertainty principle, because even an elementary particle, with no internal structure, occupies a nonzero volume. There is nevertheless a distinction between elementary particles such as electrons, photon or quarks, which have no internal structure, versus composite particles such as protons, which do have internal structure.
QED rests on the idea that charged particles (e.g., electrons and positrons) interact by emitting and absorbing photons, the particles of light that transmit electromagnetic forces. These photons are virtual; that is, they cannot be seen or detected in any way because their existence violates the conservation of energy and momentum. If the electromagnetic field is defined in terms of the force on a charged particle, then it is tempting to say that the field itself consists of photons which cause a force on a charged particle by being absorbed by it or simply colliding with it - as in the Photo-electric effect. The electric repulsion between two electrons could then be understood as follows: One electron emits a photon and recoils; the second electron absorbs the photon and acquires its momentum. Clearly the recoil of the first electron and the impact of the second electron with the photon drive the electrons away from each other. So much for repulsive forces. How can attraction be represented in this way? The uncertainty principle makes this possible. The attraction between an electron and a positron may be described as follows: the electron emits a photon with momentum directed away from the positron and thus recoils towards the positron. This entails a degree of definiteness in the momentum of the photon. There must be a corresponding uncertainty in its position - it could be on the other side of the positron so that it can hit it and knock it towards the electron.
According to the quantum mechanics that photon is an unstructured particle, how can we explain the relationship between the photon energy and frequency, and also pair production and decay?
Is there a way to explain virtual photon (in fact interaction between charged particles) without using the uncertainly principle?
Mapping the interaction of a single atom with a single photon may inform design of quantum devices
Have you ever wondered how you see the world? Vision is about photons of light, which are packets of energy, interacting with the atoms or molecules in what you're looking at. Some photons reflect off, reaching your eyes. Others get absorbed. The main decider of which happens is the photon's energy - its colour.
But look closely at the moment that light meets matter, and there's more to be discovered. Scientists at the Centre for Quantum Technologies (CQT) at the National University of Singapore have just shown that a photon's shape also affects how it is absorbed by a single atom.
We don't often think of photons as being spread out in time and space and thus having a shape, but the ones in this experiment were some four metres long. Christian Kurtsiefer, Principal Investigator at CQT, and his team have learned to shape these photons with extreme precision.
For the research, published 29 November in Nature Communications, the team worked with Rubidium atoms and infrared photons. They shone the photons one at a time onto a single atom.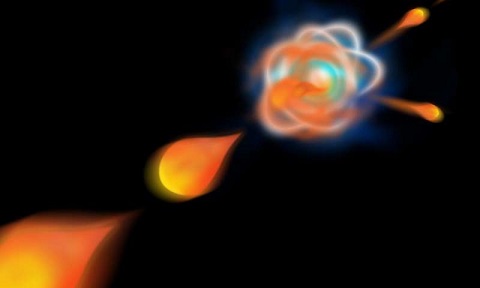 Scientists at the Centre for Quantum Technologies at the National University of Singapore have shown that a photon's shape affects how it is absorbed by a single atom. This artist's illustration is not to scale: in the experiment the photons are some 4 meters long, while the atom is less than a nanometer wide. Credit: Timothy Yeo / Centre for Quantum Technologies, National University of Singapore, Read more


"Our experiments look at the most fundamental interaction between matter and light" says Victor Leong, for whom the work contributed to a PhD degree.
A four-metre photon takes about 13 nanoseconds to pass the atom. Every time a photon was sent towards the atom, the team watched to see if and when the atom got excited. By noting the excitation times and collecting them together, the researchers could map the probability of the atom absorbing the photon as a function of time.
The team tested two different photon shapes - one rising in brightness, the other decaying. Hundreds of millions of measurements made over 1500 hours showed that the overall probability that a single Rubidium atom would absorb a single photon of either type was just over 4%. However, when the team looked at the process on nanoscale timeframes, they saw that the probability of absorption at each moment depends on the photon's shape.
There are many articles that show, photon has upper limit mass and electric charge, which are consistent with experimental observations [3 and 4]. However, in CPH theory photons are combination of positive and negative virtual photons. Photon is a very weak electric dipole that is consistent with the experience and these articles are asserted. In addition, this property of photon (very weak electric dipole) can describe the absorption and emission energy by charged particles.
Structure of photon
To understand the structure of photon, there are at least two ways
1. Generalization of the Dirac's equation and Sea
2. The behavior of photons in the gravitational field
Fortunately, both ways reach to the same results.
1- Generalization of the Dirac's Equation and Sea
We have reconsidered Dirac equation and Sea several times. In the last edition by reconsidering the Dirac Sea and his equation, the structure of photon is investigated and it is made an attempt to answer these following questions:
1- What is the relation between photon and its electromagnetic fields?
2- Does force have physical existence or it is just a mathematical tool to describe physical interactions?
3- What is the mechanism of converting potential energy to kinetic energy and vice versa?
4-What is the relation between gravity and electromagnetics?
5-What is the relation between Weyl fermions and Dirac fermions?
2- Photon-Graviton Interaction and CPH Theory
In recent decades, the structure of photon is discussed. In this article, description the structure of photon is based on the behavior of photons in a gravitational field, leading to a new a definition of the graviton too. In effect, gravitons behave as if they have charge and magnetic effects. These are referred to as negative color charge, positive color charge and magnetic color. From this, it can be shown that a photon is made of color charges and magnetic color.
CONCLUSION
Classical mechanics and both special and general relativity describe outward of phenomena regardless the properties of sub quantum scales. At the beginning of the 20th century, Newton's second law was corrected considering the limit speed c and the relativistic mass. At that time there has not been a clear understanding of the subatomic particles and basically there was little research in high energy physics.
Also, in quantum mechanics, the concept of a point particle is complicated by the Heisenberg uncertainty principle, because even an elementary particle, with no internal structure, occupies a nonzero volume.
It should be noted that the interaction between large objects (e.g. collision of two bodies) under the action of the sub quantum layer done.
Attention to photon structure and using new definitions for graviton, charged and exchange particles will change our perspective on modern physics. It also provides us with a new tool to be able to overcome physics problems in a better way.
In addition, the root of the quantum gravity problem is that physicists want to solve the quantum gravity problem regardless to the classical mechanics. Thus CPH Theory, from a new approach, turns out to merge the fundamental principles of quantum physics, relativity and classical mechanics.
Other relative articles:
What is the universe made of? How did it start?
A Theory of Everything and before the Big Bang
The concept of a point-like particle is wrong
The formal understanding of antimatter is wrong
Does EVERYTHING happen at the same time, really?
What is light charged Higgs boson scenario, really?
References
[1] Victor Leong, et. al., "Time-resolved scattering of a single photon by a single atom",
Nature Communications (2016). DOI: 10.1038/ncomms13716. Preprint available at:
https://arxiv.org/abs/1604.08020
[2] Mapping the interaction of a single atom with a single photon may inform design of quantum devices, Phys.org, December 2, 2016, available at:
[3] Heeck, J. (2013). How stable is the photon? Physical review letters, 111(2), 021801
Liang-Cheng Tu, Jun Luo and George T Gillies, "The mass of the photon" Rep. Prog. Phys. 68 (2005) 77-130 ,
doi:10.1088/0034-4885/68/1/R02
Antonio Accioly, Jos´e Helay¨el-Neto, and Eslley Scatena, "Upper bounds on the photon mass",
Phys.Rev.D82:065026,2010, DOI: 10.1103/PhysRevD.82.065026
[4] Giuseppe Cocconi, "Upper limit for the electric charge of the photons from the millisecond pulsar 1937+21
observations" Physics Letters B Volume 206, Issue 4, 2 June 1988, Pages 705-706
http://www.sciencedirect.com/science/article/pii/037026938890723X
V. V. Kobychev and S. B. Popov, "Constraints on the Photon Charge from Observations of Extragalactic Sources"
Astronomy Letters, Vol. 31, No. 3, 2005, pp. 147-151.
http://xray.sai.msu.ru/~polar/html/publications/charge/AL147.pdf
C Sivaram and Kenath Arun "Some Additional Bounds on the Photon Charge"
http://arxiv.org/ftp/arxiv/papers/0802/0802.1562.pdf
L.B. Okun, "PHOTON: HISTORY, MASS, CHARGE", ACTA PHYSICA POLONICA B Vol. 37 (2006)
http://www.actaphys.uj.edu.pl/fulltext?series=Reg&vol=37&page=565

Contains: names, biographies and lectures