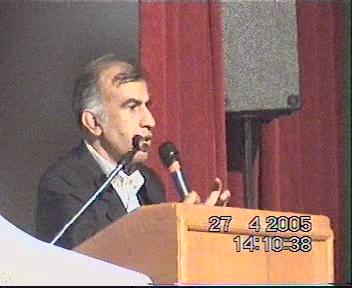 I was born in Tehran in 1949. I have been familiar with Newton's laws in 1961
Since 1962 I doubted on Newton's laws in high school. I did not accept the infinitive speed and I found un-vivid the laws of gravity and time.
I learned the Einstein's Relativity, thus I found some answers for my questions. But, I had another doubt of Infinitive Mass-Energy. And I wanted to know why light has stable speed?
Well, I wanted to know what is the basis of time. Then I asked, is there any event that time has not effect on it?
In 1971, I have started to study mathematical science at Shahid Beheshty univesity (National university of Iran). I studied modern physics.
On 1972 I was asking to myself why in the low speeds (v<<c) the Relativity becomes to classical mechanics? And why for the great bodies (solids) the Quantum mechanics becomes to classic mechanics?
Is there any law that could cover the Relativity, Quantum mechanics and classic mechanics? Extremity I believed that we must reconsider the Newton's second law and Quantum mechanics and Relativity at the same time. I received the B.Sc, in 1975. Since 1975 I started an independent investigation and was focused on the relation E=mc2 and properties of photon.
My courage had result on 1987, and I could introduce the design The Theory of CPH. After 25 years working, I could write all of my experiences on some texts, and formula.
I published book's Development Scientific Theories in 1991 in Persian, I propounded CPH Theory (Creation Particle Higgs Theory) on it.
According CPH Theory we are able to combine classical mechanics, quantum mechanics Relativity and Higg. CPH's principle issue is the conversion of force and energy. In fact force and energy are convertible to each other. Any effort for finding a unified theory without consider to conversion force and energy will has no success.
Papers written by Hossein Javadi (Independent Researcher)
Definition of Singularity due to Newton's Second Law Counteracting Gravity
Interactions between real and virtual spacetimes
Reviewing Friedmann Equation and Inflation Theory by Sub Quantum Energy
Reconsidering relativistic Newton's second law and its results
Graviton and Newton's second law
Graviton and cosmology equations, before the Big Bang
Graviton: physical time and thermodynamics
Graviton: Virtual photon and Quantum Chromodynamics
Modern physics; problems and solutions
Unified Force, Energy and Mass
Physics: Being and Time Persian
Beyond the Modern Physics and Cosmological Equations
On the constancy of the speed of light: a nature law or a natural accident!?
Quantum Gravity Chromo Dynamics (QGCD)
CERN Experiment and Violation of Newton's Second Law English
CERN Experiment and Violation of the Newton's Second Law Persian
Zero Point Energy and the Dirac Equation
Zero Point Energy and the Dirac Equation Persian

Contains: names, biographies and lectures