سال جهانی فیزیک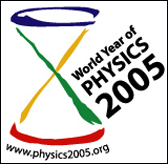 سال 2005 از سوی سازمان ملل به عنوان سال جهانی فیزیک نام گذاری شد. امسال صدمین سال تولد نظریه فوتوالکتریک است. انیشتین در سال 1905 با ارائه نظریه فوتوالکتریک که منجر به دریافت جایزه نوبل شد و البته ارائه دو نظریه دیگر، از جمله نسبیت خاص، پایه گذارانقلاب بزرگی در علم فیزیک و برآمدن نسل جدیدی از دانشمندان و فیزیک دانان شد. در محافل علمی ایران نیز قرار است سال 84 به عنوان سال فیزیک شناخته شود.
http://tusca.ut.ac.ir/includes/saljahaniefizik.asp
ارزیابی سال ۲۰۰۵ از نظر فعالیت های فیزیکی به مناسبت سال جهانی فیزیک روی همرفته مثبت تلقی نشده است
این گزارش که در یکی از سایتهای اینترنتی آمده است نشان می دهد نه تنها ما بلکه کشورهای مختلف از عملکردشان امسال راضی نبوده اند البته شاید این برآورد به خاطر نشانهای بارزی از نبوغ وتاثیر فرضیات اینشتین در دنیای فیزیک باشد که هنوز پس از صد سال هنوز متکی به نظریات علمی اوهستیم ومنتظر آرا وافکار نویی در فیزیک ....
اما آنچه که امسال انتظارش راداشتیم اثر فیزیک در هرچه نزدیک تر کردن فهم عوام به دریافت قوانین حاکم بر طبیعت وآشتی کردن با علم بود ...حال تا چه حد در این زمینه موفق بوده ایم جای فکر دارد

Review of the year
22 December 2005
It was the International Year of Physics, when physicists around the globe celebrated the centenary of Einstein's famous papers on relativity, Brownian motion and the quantum theory of light. The year saw a vast range of events, conferences and exhibitions to commemorate the top physicist of all time and enthuse the public about physics. But was 2005 an annus mirabilis for physics research? It is probably too soon to give a definitive answer, but as the year draws to a close the likely answer seems to be "no".
1. January: All-silicon laser makes its debut
2. February: Saturn and Titan reveal their secrets
3. March: The passing of a legend
4. April: Negative refraction goes optical
5. May: Particle physicists discover new meson
6. June: Europe beats Japan to fusion prize
7. July: Quantum boost for optical clocks
8. August: Fibres control the speed of light
9. September: Comet reveals its secrets
10. October: New look for Hall effect
11. November: Electrons lose their mass in carbon sheets
12. December: Entanglement reaches new levels

1. January: All-silicon laser makes its debut
The year got off to a good start for solid-state physicists when researchers at Intel announced that they had made the first all-silicon laser. The laser was manufactured using standard semiconductor processing techniques and was heralded as bringing cheap, high-speed optical circuits one step closer. Integrating lasers and electronic devices on the same silicon chip is one of the holy grails of microelectronics. But most existing optical devices -- such as the lasers inside DVD players -- use exotic and expensive semiconductors like gallium arsenide or indium phosphide.
All-silicon laser makes its debut
2. February: Saturn and Titan reveal their secrets
February saw the first flood of results from the Cassini--Huygens mission to Saturn. The Cassini mothership had started orbiting Saturn in June 2004 and eight new papers revealed evidence from that mission for new moons and ring structures. Later in the year, the European Space Agency's Huygens probe, which landed on Saturn's largest moon Titan in January, revealed fascinating new information about Titan's nitrogen-rich atmosphere.
Cassini reveals Saturn's secrets
Saturn's moon reveals its secrets
3. March: The passing of a legend
It was a sad month for physics when Hans Bethe -- one of the giants of 20th-century physics -- died on 6 March. Bethe was awarded the 1967 Nobel Prize for Physics for his theory of nuclear reaction inside stars and was one of the key figures in the Manhattan atomic-bomb project during the Second World War.
The year also saw the death of Joseph Rotblat, who was the only physicist to resign from the Manhattan project and who later worked tirelessly for a world free from nuclear weapons as founder and secretary-general of the Pugwash peace movement. Rotblat and Pugwash shared the 1995 Nobel Peace Prize. Other deaths during the year included Philip Morrison, Jack Kilby, Hermann Bondi and John Bahcall.
Atom bomb designer dies
Bomb builder turned critic passes away
Jack Kilby: 1923--2005
John Bahcall dies
Joseph Rotblat dies
Sir Hermann Bondi: 1919--2005

4. April: Negative refraction goes optical
Physicists at Purdue University in the US announced in April that they had demonstrated "negative refraction" at optical wavelengths for the first time. The researchers obtained the result in a material consisting of an array of pairs of parallel gold nanorods, and said the structure could lead to optical "superlenses" that reflect no light and operate with sub-wavelength resolution. Negative refraction continued to be a hot topic throughout the year, with other papers describing an optical superlens from a thin layer of silver and the discovery of a new type of negative-index material made from layers of superconducting and ferromagnetic thin films.
Negative refraction goes optical
Superlens breakthrough
Ferromagnets and superconductors make negative-index materials
April also saw a rather over-hyped announcement by researchers at the Brookhaven National Laboratory in the US that they had found strong evidence for a "quark--gluon" plasma -- the state of matter that is thought to have existed in the first millionth of a second after the Big Bang. The researchers stopped short of saying they had actually discovered the elusive state of matter, which consists of quarks, antiquarks and gluons. But they did find evidence suggesting the quark-gluon plasma behaves more like a liquid than a gas as was previously thought.
Quark-gluon plasma goes liquid

5. May: Particle physicists discover new meson
With the Large Hadron Collider still being built at the CERN lab in Geneva, it was a quiet year for much of particle physics. However, in May members of the Belle collaboration at the KEK laboratory in Japan discovered the first "hybrid meson". The particle, first predicted over 25 years ago, appears to contain a gluon in addition to the quark and antiquark that are usually found in mesons. The new meson, which decays into two well-known particles called the Omega and J/psi, adds to a string of other hadrons with mysterious properties that have turned up at KEK and other laboratories in the last year or so. However, 2005 also saw the final chapter of the "pentaquark" story, with dedicated searches at the Jefferson Laboratory in the US ruling out the existence of the five-quark state that had been tantalizing experimentalists since 2003.
Particle physicists discover new meson

6. June: Europe beats Japan to fusion prize
After long, drawn-out and frankly rather dull negotiations, it was finally announced at the end of June that France had won the prize to host the €10bn International Thermonuclear Experimental Reactor (ITER). The decision to build the reactor at Cadarache in southern France came after an 18-month battle between the European Union (EU) and Japan. Two of the project's six partners -- Russia and China -- had backed the EU bid, while South Korea and the US supported the site in Japan. As a sop, Japan was allowed to pick Kaname Ikeda as boss. It will also be given more than its fair share of industrial contracts when construction begins. ITER will be the next step before a prototype commercial fusion reactor dubbed DEMO is built, and could be ready by 2016
Europe beats Japan to ITER prize

7. July: Quantum boost for optical clocks
This year saw physicists celebrate the golden jubilee of atomic clocks, which were invented in pioneering experiments at the National Physical Laboratory in the UK in 1955. Atomic clocks rely on microwave transitions in caesium atoms, but a new generation of devices based on much faster optical transitions could be even more accurate. Work on these "optical clocks" moved forward in July when physicists at the National Institute of Standards and Technology (NIST) in the US demonstrated a new form of laser spectroscopy that could lead to more accurate devices. Such clocks could lead to the second being redefined and could also be used to check if the fundamental physical constants are truly constant.
Quantum boost for optical clocks

8. August: Fibres control the speed of light
Work on "slow light" led to a flurry of papers this year, including the demonstration by physicists in Switzerland that the speed of an optical pulse can be reduced in an optical fibre based on off-the-shelf technology. Over the past decade physicists have had to use exotic media such as ultracold atomic gases and various crystals to make "slow" or "fast" light. Although some of these techniques work at room temperature, they have never before been suitable for use in a fibre-optic network. The result could therefore lead to practical applications in optical delay lines, optical memories and, ultimately, the development of an all-optical router that speed up the flow of data over the Internet.
Later in the year, scientists at IBM built a silicon chip that combines miniature heaters and photonic crystals to control the speed of light pulses. The silicon waveguide circuit reduces the "group velocity" of light by a factor of up to 300.
Fibres control the speed of light
Silicon chip puts the brakes on light

9. September: Comet reveals its secrets
It was a good month for astronomers when the first results from the Deep Impact mission to the comet Tempel 1 were released. The NASA probe -- roughly the size of a washing machine -- had crashed into the comet on 4 July after leaving its mothership a few hours earlier. The data showed clouds of dust and ice being ejected from the impact site. The impact was designed to disturb material inside the comet that were then analysed by the instruments on board the flyby spacecraft as well as various ground and space-based observatories.
10. October: New look for Hall effect
October saw physicists in France demonstrate the Hall effect with phonons -- vibrations of a crystal lattice -- for the first time. The classic Hall effect occurs when an electric current flows through a conductor in a magnetic field. If the current and magnetic field are at right angles to each other, electrons deflect to one side and a Hall voltage builds up in a direction that is at right angles to both the current and the magnetic field. It had been assumed that the Hall effect could not exist for phonons because they have no charge. But a team at the Grenoble High Magnetic Field Laboratory proved otherwise. When a heat current was passed in one direction down a crystal of terbium gallium garnet and a magnetic field was applied at right angles to it, the Hall effect was observed as a temperature difference normal to both directions.
11. November: Electrons lose their mass in carbon sheets
Exotic behaviour was discovered in two-dimensional sheets of carbon atoms by two teams of physicists from the UK, Russia and the Netherlands in November. The researchers found that the electrons in graphene behave like relativistic particles that have no rest mass and travel at about 106 metres per second. Although this is a factor of 300 slower than the speed of light in vacuum, it is still much faster than the speed of electrons in an ordinary conductor. Both teams also observed a new "half-integer" quantum Hall effect, which is the relativistic analogue to the conventional integer quantum Hall effect that is seen for free electrons in semiconducting systems.
Electrons lose their mass in carbon sheets

12. December: Entanglement reaches new levels
Work on entanglement went from strength to strength in 2005 as physicists managed to entangle the largest number of particles ever. Two rival teams, one from the National Institute of Standards and Technology in the US and the other at Innsbruck University in Austria, entangled up to eight calcium ions. The results were the latest steps on the long road to large-scale quantum computers. Later in the month, physicists took another big step towards this goal with the creation of an ion trap on a semiconductor chip.
Entanglement reaches new levels
Ions trapped on a chip

And finally: The physics of everything
2005 saw a steady stream of papers on some unconventional topics. These include: fluids that "unmix", a theory for exploding "dark matter balls", and how sound can move faster than the speed of light. Other unusual papers described how physics can be used to analyse works of abstract art, explain how spaghetti breaks and how animals find things. A back-pack that generates electricity while you walk and a recipe for making "superstrings" in the lab were among the other less conventional results of the year (see below for a full list).
Devices controlled by thought move closer
How to make a blockbuster
A recipe for making strings in the lab
How animals find things
The physics of pasta
Power walking
Physics goes abstract
Could sound move at the speed of light?
Fluids mix in reverse
Exploding dark-matter balls predicted

About the author
Matin Durrani is Acting Editor of Physics World
1 2 3 4 5 6 7 8 9 10 11 12 13 14 15 16 17 18 19 20 21 22 23 24 25
26 27 28 29 30 31 32 33 34 35 36 37 38 39 40